NEED HELP? MAIL US: info@orthodoxbookstore.org

Log in
|
Create account

Cart :

0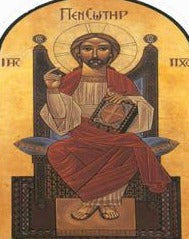 Christ Enthroned
The Lord Jesus, being both God and man, reestablished communication between Divinity and humanity. He makes us hear God's voice for He is the Word of God made flesh.
One of the Fathers composed this hymn on behalf of the icon image of Christ, saying: "We venerate Thy sacred image, O Gracious Lord, asking the forgiveness of our sins, O Christ God. Wherefore, we thankfully cry to Thee: 'Thou didst fill all things with joy, O Savior, when Thou didst come to save the world!'"
In this icon, Christ is seated on the Throne of His Glory. His right hand is raised in blessing, while the left is supporting the closed Gospel book (for God's plan is for people to absorb and be nurtured by His love before entering into communion with Him through the open-book Bible). His inner white robe symbolize His Divine nature while the red outer tunic reveals His human nature that He assumed. On either side of the throne are the Coptic abbreviations for "Jesus Christ." On the top of the icon is the Coptic word for "Our Savior."
The icon of the Teacher (the Enthroned) is a variation of the Pantocrator. It is a representation of the Incarnate Son of God. His facial features are grave and solemn, full of love, care and concern. It invites us to look into the eyes of Divine Love.
This icon is placed on the right side of the Royal doors on the icon screen. It is Christ Himself Who leads us in worship of the Father and through Whom we enter the mystery of Divine Life.
Icon Size Details:
Small:  3" x 6" inches
Medium:  5.5" x 10.5" inches
Large:  10" x 19" Inches